Home
The Street2Peak Project
The Street2Peak Project is a 10 year venture that will take some of Vancouver's most vulnerable youth on 5 magnificent adventures across 5 continents. The purpose of these trips is to give disadvantaged students an opportunity to share their stories of struggle and success with the rest of the world. We are going to travel the globe and expose our students to those wondrous and beautiful lands outside of our inner-city borders. They will get to meet, firsthand, other indigenous youth from different countries and start to participate in a global conversation about what it's like to be a kid in an ever-changing and overly complex world. These will not be "holidays", but rather, these expeditions will be rigorous and demanding, pushing the students to their limits in the hopes of showing them and the world what youth are capable of. Drawing the majority of our students from the Streetfront Alternative Program is an added benefit due to their commitment to physical fitness, outdoor pursuits and marathon training the program offers. From these expeditions, we will be creating a leadership cohort that will take their experiences to students around the province, inspiring youth to believe in themselves and know that it doesn't matter where they come from – what matters is where they go. We have just received initial approval from the Vancouver School Board on our next exciting expedition.
While convenient did you know we lose 3% of each donation by using PayPal? If you wish 100% of your donation to go to the Street2Peak Project you can also pay by cheque or cash in person at Britannia Secondary.
Britannia Secondary School
include Street2Peak Project in the memo line
1001 Cotton Drive,
Vancouver, BC
V5L 3t4
PATAGONIA CHILE: March 2017 –
COMPLETED
For the second trip in our project, a trek in the Patagonia region of Chile, was selected after Peru was found to be a poor choice for a trek in the month of March. We knew we couldn't replace the magic of our projects first trip to Mt. Kilimanjaro but southern Chile was an equal for its incredible, grand beauty. The 10 months of training made the six days backpacking the 'W' trail in Torres del Paine National Park more enjoyable and easier to complete our more rigorous 26 km day. The landscape was stunning beyond words. Each day built upon the other to provide the group with a trip of a lifetime. We were blessed with fantastic weather as twice in the previous weeks the park was closed due to heavy rains and the hazards it brought.
To add to the experience we kayaked among glacier ice-floes on Lago de Grey (Grey Lake); rode horses at a sustainable ranch at Estancia La Peninsula; explored cities of Santiago, Puerto Natales and Punta Arenas; and got up and close to the penguins on Ilsa Magdalene.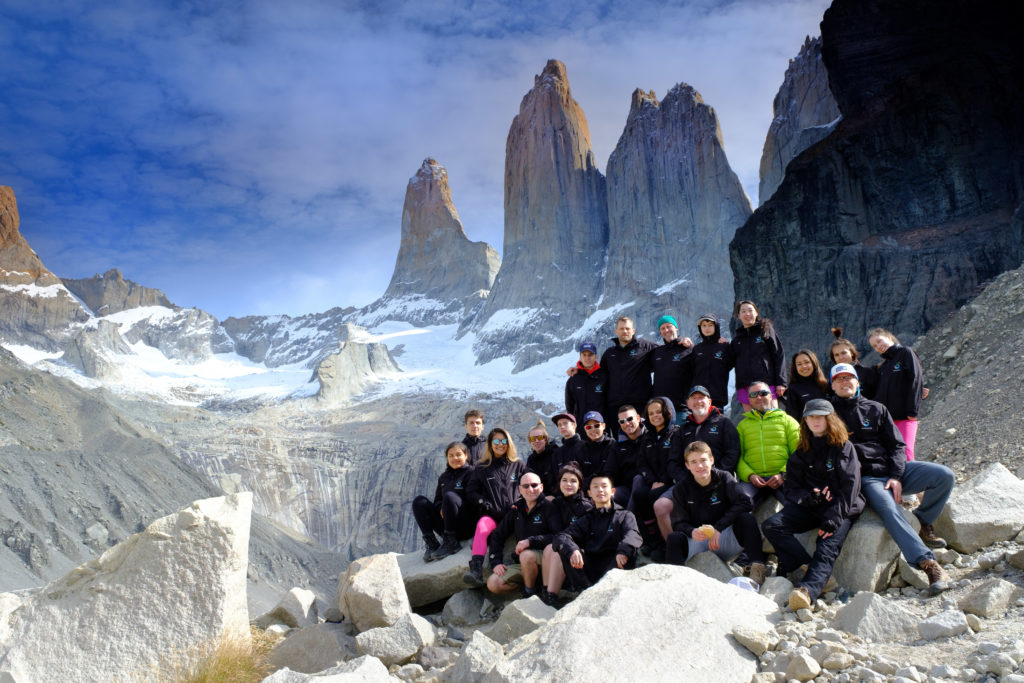 To see a sample of photographs taken please visit our gallery page or to see more follow our Street2Peak Facebook page.
MT. KILIMANJARO: March 2015 –
COMPLETED
Street2Peak has successfully completed what we had striven to do – plant the seed of change in the lives of 15 students by climbing Africa's highest peak – Mt. Kilimanjaro! Every student experienced challenges and tribulations, but persevered; both received and demonstrated compassion for one another; had direct contact with the beauty of Tanzania's people and environment; had shared two weeks of adventure, laughter, tough times, and awe with friends new and old; had seen incredible wildlife in person that they had only seen in childhood story books or at best confined in zoo's. The seeds of travel, exploration, shared experiences and most of all that no matter where one comes from with dedication, focus, hard work and gathering allies within their community that their dreams can become a reality! For many of the participants they have began to make lasting positive changes – working harder in their education, welcoming greater physical challenges, and becoming a person with more compassion and hopeful of their future selves. Many parents and community members have noticed a fire, a vibrancy, and confidence within these youth. We know as they mature and gain further experiences where they are now will pale in comparison to where they will be.