Our Community Garden and Tanzania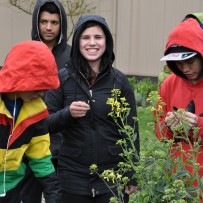 Today we worked in our garden guided by the staff and volunteers with the Environmental Youth  Alliance. We sampled the leaves and flowers (taste like broccoli) of our Kale plants, planted two more apple trees, added more mulch to the paths, transplanted the green onions from our indoor starter garden and into their new home soil, did some weeding, and mixed some of our rich on site compost into the garden beds.  Despite the rain we accomplished a lot, learnt some new things and had fun.
How is this connected to our Mt. Kilimanjaro trip? Britannia has a sister community garden program with the Sega Girls School in Morogoro, Tanzania. Sega is a residential secondary school for bright motivated Tanzanian girls who otherwise are unable to attend school due to extreme poverty. If possible we hope to visit their school and garden when we are in Tanzania in March 2015!