Students speak at McKechnie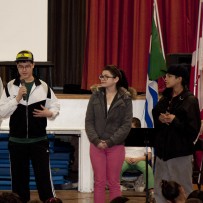 On April 25th three Streetfront students along with Trevor spoke at a school assembly at Dr. R.E.O. McKechnie  Elementary School. Jasper, Nick and Jesse did a fantastic job speaking to the young students about their experiences at Streetfront, their marathon running accomplishments and Streetfront's Street2Peak Project: Mt. Kilimanjaro.
This talk is one of many to come over the years as part of a mission of the S2P Project to have youth inspire youth to go beyond what they think is possible, to reinforce that it doesn't matter where you come from – it matters where you go!