Patagonia Chile 2017: Training Hike – Baden Powell Trail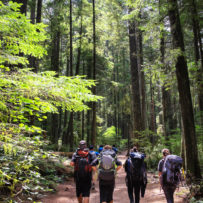 For or fourth training hike we strapped on the backpacks, loaded them with weight and headed for Deep Cove, North Vancouver. We started at the beginning of the Baden Powell trail bypassing the extremely busy Quarry Rock lookout and found quieter trails – until nearing the equally popular Lynn Canyon Park.
We covered 13 km's and gained 800 m in elevation on trails from rocky and rooty to pleasant boardwalk lined forests. Thanks to those Chile hopefuls and volunteers that showed up and made today an enjoyable experience.