Patagonia Chile 2017: Training Hike – Norvan Falls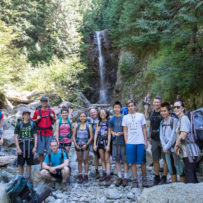 With a little more weight added in the form of tent parts we set off for Lynn Headwaters to hike the trail to Norvan Falls. Luckily the trail is mostly in the trees so we the sun hard to work harder to get at us. The cooler shade was much appreciated on this 14.5 km hike.
Thanks for our volunteers Jesse and Sean and to the S2P staff Gord, Trevor and Brandon for another successful training hike!