Patagonia Chile 2017: Training Hike – Capilano Pacific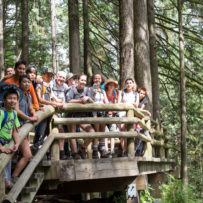 With packs loaded with more weight we tackled the 15 round-trip trail that covered Ambleside Park to the south and the Cleveland Dam at the Capilano Lake (one of our drinking water sources) to the north. Thankfully the weather gave us a break with mostly cloudy conditions to make it much nicer to hike in.
Thanks to our volunteers Crystal, Hai and Jesse and S2P "staff" Gord and Brandon. Thanks to the Chile "kids" for another awesome time on the trail!