Events
Throughout the project Street2Peak and contributing volunteers will hold some events to bring attention to our project, help raise donations and offer our supporters some fantastic activities. We hope people will take the time to meet and engage with the youth whom they are supporting with their time or money.
If you have a fantastic idea for an event we can offer, or would like to donate your expertise and time in hosting an event please contact us.
10th Annual SHLF Run: October 16th, 2016
Streetfront students and staff have been supporting our greatest school financial supporters by participating in their annual North Vancouver charity run. We will once again be running but this year there is a huge difference… Streetfront Alternative (the parent of the Street2Peak Project) is now an integral partner in the Strachan Hartley Legacy Foundation. So much so that 100% of monies raised under the SHLF name will now come directly to Streetfront and therefore to our project. Please not only consider donating to our project of allowing EastVan youth to have life-altering travel experiences but by becoming an active participant in this great family run. This run replaces our Street2Peak Family Charity run that we started for our 2015 Mt. Kilimanjaro Trek.
Too register please follow the link below to the SHLF run registration page.
Past Events…
Bikram Yoga:
Bikram Yoga Vancouver has kindly allocated three sessions in which they will donate 50% of the drop-in fee of patrons who state they support of our Street2Peak Project! Please consider visiting Bikram Yoga Vancouver on Wed. Nov. 19 for the 9:30 am or 6:15 pm classes or on Sun. Nov. 23 at 12:00 pm. The Streetfront students will be attending the 9:30 am class so why not come then to learn the 26 poses along with us! Thank you to Ali Cloth for organizing this fundraising event.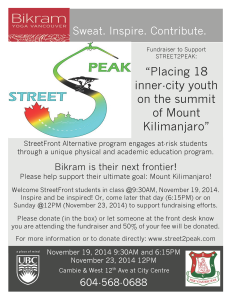 Summer 2014 Training Hikes:
We had a great turn out of youth this past summer for our training hikes. Weather for the most part was very hot and sunny which made for an excellent introduction to the physical demands that will be in store for us in Africa.
Street2Peak Family Charity Run:
On Saturday, May 10th, 2014 we held our first fundraising event at Jericho Beach. This family event was very well attended and raised an amazing $23,000 towards our goal!
Thank you to all who attended and especially the our run organizers – Shannon Vrlak, Laura Hately, Catherine Watkins and Sara DesBrisay; sponsors Rep One Fitness and Rackets & Runners; as well as the countless volunteers!