Patagonia Chile 2017: Training Hike – Diez Vistas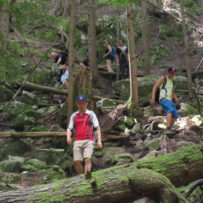 As usual this group of 15 Chile hopefuls hiked a pretty quick pace covering the 15 km's and 1,400′ (426m) in elevation gain in a respectable 5 hours with breaks.
Yours truly had forgotten the camera at school but Hai was kind enough to lend me his image maker to grab a few shots. Thanks Hai and thanks also to our other fantastic volunteers for the day – Jesse, Sean and Crystal.